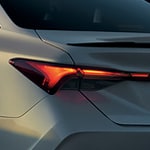 One of the most fun parts of our jobs at Toyota of Fox Lake is test driving vehicles to gauge their strengths. Our Toyota Avalon test drives yielded superb results, particularly in the area of performance. Check out a few standout features.
Horsepower Galore
Take your pick of gas-powered or hybrid powertrains. The Toyota Avalon offers both as well as two beastly engines: a 215-horsepower 2.5-liter IV and a 301-horsepower 3.5-liter V6. Paired with eight-speed transmission, the Toyota Avalon achieves 32 mpg city/highway. Its Variable Valve Timing and direct fuel injection give it class-leading power and efficiency.
Race Track-Ready Silhouette
The Toyota Avalon's silhouette has specific features to optimize its aerodynamics:
Tangential front bumper vents
Underbody panels
Rear diffuser
Rear spoiler
Thanks to the improved aerodynamics that these features impart, the Toyota Avalon has a decreased drag coefficient, improving efficiency on highways and streets in Fox Lake. The same features also result in reduced rattle and vehicle noise on a variety of terrains, preserving a smooth, quiet ride feel during your daily commutes or weekend excursions.