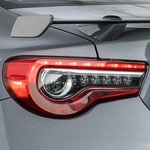 The Toyota 86 is a lightweight rear-wheel drive sports car that has quickly gained popularity in the automotive community. The 2020 86 continues the tradition by maintaining its sharp-handling driving characteristics while adding several new performance features to the mix. The new Toyota 86 model is available in three different trims, all with automatic and manual transmission options.
Power and Performance
The 2020 Toyota 86 houses a standard 2.0-liter flat-four cylinder engine, more formally known as a Boxer engine. The Boxer engine in the Toyota 86 produces between 200 horsepower and 205 horsepower, depending on the transmission option that a driver selects. The manual transmission and automatic transmission in the new 86 are both six-speed transmissions. As with previous model years of the 86, the new 86 is driven by a rear-wheel drive drivetrain setup that is finely-tuned with a sport suspension setup. The suspension and drivetrain of the 86 allow it to handle well around turns and corners.