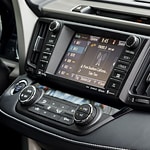 It is always important to ride in an SUV that is comfortable and has the added amenities you need to make a journey of any length more enjoyable. You will really get to experience the difference that this makes when you begin to ride in the Toyota RAV4. Here are just a few of the interior features that you can get excited about.
There is a dual-zone automatic climate control system that allows everyone inside to set the temperature to their individual preference. This system comes with the added benefit of having a filter that takes much of the dust and pollen out of the air. You will be breathing much better as a result.
With the 4.2-inch digital display screen, the driver will always be able to see critical vehicle information. This can also be customized to include the data that you use the most. It is clearly displayed on the dash in front of you so that your eyes do not have to go searching for it.