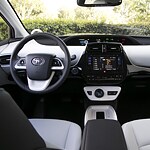 As one of the premier compact hybrids on the road today, the new Prius from Toyota has the interior features that buyers expect in high-quality vehicles today. These features are designed to make every ride in the Prius comfortable, safe, and convenient.
One of its most exciting features is its integrated Amazon Alexa technology. You can use Alexa to get directions to your destination, find out where restaurants are located in a new city, or even control your home's smart devices. You can do all of this with voice-activated commands without taking your hands off the steering wheel.
The Toyota Prius also comes with Apple CarPlay and Android Auto so you can pair your preferred mobile device to the car itself. Your apps display on the car's touchscreen LED display and let you make hands-free phone calls and send text messages easily. You can also access apps for shopping, navigation, and more.