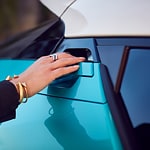 Different drivers have distinct features that they look for in a vehicle. Upon entry into our showrooms, the Toyota C-HR will be one of the new car models you will spot. The car is uniquely designed, commands a bold appearance, and bears attractive exterior features.
Firstly, the C-HR comes with a unique Toyota model logo, notable LED lights with the Adaptive lighting, and daytime running lights. C-HR also bears alloy 18-inch wheels that provide the car with a clear ground space, colored door handles with sensor locking and unlocking technology, and powered mirrors fitted with signal indicators. They also bear the blind spot indicators and are foldable.
The Toyota C-HR exterior possesses other crucial technologies to grant you a more excellent driving experience. You will also find aerodynamic body panels, Automatic high beams, windshield wipers, a front grille insert, a noise-reducing windshield with an acoustic design, and a skillfully designed black roof.