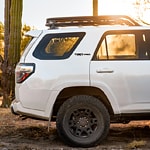 Comfortable on the road and just as at home off the beaten path, the Toyota 4Runner incorporates features in its exterior design that make switching back and forth easier than ever. Sporting six trim levels in all, the Toyota 4Runner knows what it means to provide a wide array of features to consumers that will appeal to a wide base of buyers.
Functionality is evident in the exterior features that the Toyota 4Runner SUV offers. Rail racks for extra storage, all-around LED lights that help illuminate the road ahead, and a power liftgate for user convenience are all useful exterior features. Playing into the values that Toyota holds highest, including convenience and safety for all, these exterior features are beneficial to this SUV's functionality.
While many exterior features of the Toyota 4Runner have a purpose, others enhance the appeal of this SUV. Running boards, color matching door handles and spoiler, and external trim badges add refinement to the exterior of the 4Runner.